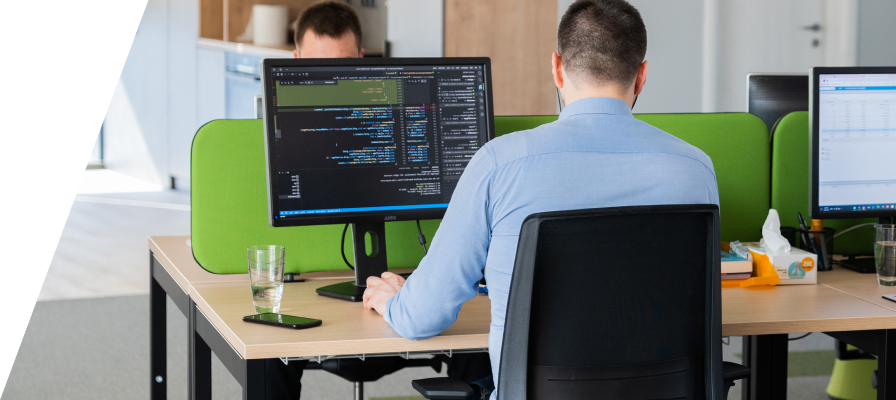 Let's develop together
We are always looking for fresh talents who are ready to face challenges and create positive change.
Open positions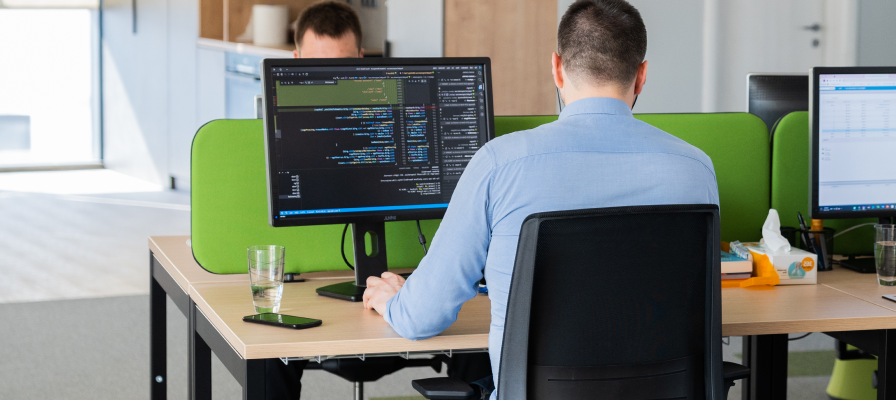 Our mission

We make work more meaningful by developing the technology that's right for each company
We convert business strategies into technology systems and that optimize performance. Our goal is to automate repetitive processes, which ultimately lead to happier employees. Specifically, we work on software analysis and audit, software development, mobile apps, eCommerce solutions, web development and others.
We believe the success of our company depends on the success of each individual so we follow a simple set of rules that gives us the possibility to grow and develop continuously. We empower our team to bring their full, authentic selves to work and to approach with confidence the most inspiring challenges of their working lives. We give our mind freedom to think creatively, we have great ambition and passion for what we do. With the combination of these traits we offer the boldest and smartest solutions for our clients.
Our goal is to provide the best solutions for our customers and we have achieved that through creating meaningful and strong relationships with our clients, by getting actively involved in each project and by offering support to those who wish to develop their online businesses. In our culture trust and autonomy have been the core values which led us to success.
Our core values

Some of the values we live by
Our values define who we are and underpin everything we do. We are building successful products and focus on delivering the best expericence to our customers. To fulfil our mission we empower employees to bring out the best in them and to do the most exceptional work in their lives.
Client oriented
We take great care to understand client's needs and dreams and plan to deliver the best results.
Result oriented
We engage each team member's creativity and proffessionalism to achieve the end goal.
Self improvement
We always want to learn, improve our skills and get better at what we do.
Team work
We are open and supportive with everyone. We encourrage communication and team work.
Commitment
We take ownership over the work we do and we are commited to provide the best solutions.
Our work environment

Creating a challenging and inclusive environment for everyone
Create meaningful products
We treat each project with great responsibility and we focus on delivering the best results. Our motto is "Promised.Delivered" and we stand by our promises both externally and internally.
Life in our team
We are driven by the idea that together we can provide the most powerful outcomes. We can only grow if you grow, so we support you in exploring, testing, sometimes even failing, but learning from your mistakes. The team is ready to help.
Develop and learn
We've been in the IT industry since 2001, so we've become expert at adapting. Therefore we encourage you to become a lifelong learner, keen to discover new technologies to use in your everyday work.
Job application process

The steps in a job application process
Hiring process can seem sometimeg a bit intimidating but we don't want you to be intimidated or overwhelmed. We would like to get to know you , to see your potential and if there is a match betwen us we could grow together.
Review
We review applications received to see in the first place if candidates would fit into our organization.
Interview
We conduct interviews to get to know each other. In this process you get insights on the role and team and we get to know you.
Task
For some roles you will have the chance to show off your skills. Don't panic we want you to succeed as much as you do, so we will offer support and answer all your questions.
Offer
If there is a match we will make an offer and discuss about it.
Elena G.
Developer
"Tara is not about the job, projects or clients, Tara Interactive is about people. It's about a team where everybody has his own role, for each one there is a place and he/she is accepted as it is. I am part of this team because here I found myself. I always start my day with joy and I am excited to do interesting things with interesting people, aspiring to more."

Andrei R.
Developer
"All the beauty in programming is to receive a problem that no one knows how to solve. And you think about how to solve the puzzle. I like to support other colleagues from TARA to solve the puzzle. Together, everyone achieves more."

Corina L.
Developer
"Being at the beginning of the road, I was stressed when I had to work from home, it seemed harder to ask for help. I'm glad to have the option to work from the office, and when I come in the morning I shout loudly, as I enter the door, GOOD MORNING!."
We'd love to get to know you.

Ready for new opportunities? See what suits you and apply.